To allow our staff to work as Professional Learning Communities, all dismissal times will be one hour earlier on every Wednesday beginning tomorrow, August 26, 2020. K-4 car rider pick-up begins at 1:40PM, 5-12 bus riders at 2:20PM, 5-12 car rider at 2:20PM.


The issues with My School Bucks have been resolved. You are now able to deposit money into your child's account.



NEW Fountain Lake Volleyball Game Protocols Fountain Lake will host Hot Springs in Volleyball on Monday, August 24 starting at 5:00 pm in the Bass Gymnasium. The 9th Grade will play first followed by the Varsity (no JV). Gates will open at 4:30. According to ADH Guidelines, the gym will only fit 226 people due to capacity guidelines. All tickets will be $5 per person. Walk up tickets will be sold at the entrance for $5 per person, if there any left, starting at 4:30. Senior Night will start immediately after the 9th grade game. Tickets will be available from 9:00 am to 3:00 pm on Monday, August 24 in the Fountain Lake Administration office (Madison Burfiend). Every person must have a ticket to enter. CASH ONLY! Passes: Due to ticket and capacity restrictions, only AAA passes will be allowed at the door. Due to Covid-19 Protocols, any other Fountain Lake issued passes will only be accepted with a ticket. *New* - Students: Students may purchase a ticket at the Admin Building (Madison Burfiend). All students, unless they are competing that night, must purchase a ticket. *New* - Teachers and Staff: At this time, each staff member can acquire only one ticket to each game free of charge, but must acquire the ticket from the Admin Office (Madison Burfiend). Additional tickets must be purchased. *New* - Sr. Citizens/Lifetime Passes: At this time, each card bearer may acquire one ticket to each game free of charge, but must acquire the ticket from the Admin Office (Madison Burfiend). Additional tickets must be purchased. Parents are required to social distance after the game while waiting for players to exit the gym and MUST STAY IN THE BLEACHERS. Fans will not be allowed to loiter around after the end of the game. All fans are expected to leave the premises upon completion of the contest. Every attendee MUST wear a face covering at all times unless eating or drinking. Social distancing of 6', using every other row, is MANDATORY. Households may sit together on a row. No one except for both school's administration, teams and support personnel and their coaches are allowed on the court before, during or after the games. *** With a limited number of tickets available, once reach the capacity of the gym (226 People), no one else will be allowed in the gym.

It is with sincere regret, that due to the Covid Pandemic and the quarantining of over 70% of the Fountain Lake football coaching staff and quarantining of a large number of both our Junior and Senior High football teams, we must cancel the 2020 First Security Bank Kickoff Classic Football games scheduled with the Hot Springs School District. These games were scheduled on Tuesday, August 25 and Thursday, August 27. Both districts have exhausted every possible avenue to continue the contests this fall, but could not find any open dates to resume the contest in 2020. After many conversations with the Hot Springs administration and staff, we have made a mutual decision to cancel in 2020 and resume in the fall of 2021. This decision has been extremely difficult because the Fountain Lake student athletes want to compete. Keeping the health and safety of our student athletes as our number one priority, we believe that with only a couple of practices available before the game, that almost a third of our team will not be ready to compete without the possibility of fatigue and subsequent injury. The Arkansas Activities Association has deemed this game to be a "No Contest" and will not count for or against either school's overall record. We appreciate First Security Bank and their sponsorship of the week of activities that lead up to the senior high football game that has taken place the last 2 years. We also want to thank Levi Hospital, Allen Tillery Auto, and Smokin N' Style for their support. In addition, we appreciate the relationships we have built with the Hot Springs School District and their support through the quarantine and cancellation of the contests

The Fountain Lake Tennis Match scheduled for tomorrow, Wednesday, August 19 has been postponed and will be rescheduled for another date.

Free and Reduced Lunch forms are due on September 15th. If you have not received a form, please contact us or print the form that is on our website. Thank you!

Please take time to view our new video regarding our Traffic Safety Plan for the 2020-2021 school year. We look forward to seeing everyone on Monday morning!
https://youtu.be/-ejVj0Y8tPQ

Fountain Lake's Football Benefit Games in Jr and Sr High with Magnet Cove scheduled for Monday, August 17 and Thursday, August 20 have both been cancelled. This decision was made due to the recent positive test for COVID within the football program.

Two Fountain Lake School District employees have tested positive for COVID-19. One of the employees is a football coach. We have followed the Arkansas Department of Health contact tracing guidelines and have found that several members of our junior and senior high football teams were in probable close contact with the teacher that tested positive. Anyone in probable close contact will be asked to self quarantine for 14 days and this information has been forwarded to the department of health for further monitoring. Our district notified all students and parents that needed to self quarantine today. Therefore, if you were not notified your child is encouraged to maintain their normal routine at home and school. I appreciate the cooperation and understanding of everyone involved and thank you for your support as we take the necessary precautions to keep our staff and students safe on our campus.

Fountain Lake Charter School District is pleased to congratulate the following faculty members on their years of service: 5 Years of Service: Debbie Afkhami, District Aide; Michaela Biehslich, Middle School/ High School Teacher & Coach; Katie Curry, Elementary Principal; Kassi Eddy, Elementary Teacher; Melissa Howard, Middle School Teacher; Christi Lopez, District Aide; and Devry Rhodes, High School East Facilitator. 10 Years of Service: Jill Davis, Elementary Counselor; Hayden Fusilier, Director of Support Services; and Kenny Shelton, Football Coach. 15 Years of Service: Jody Crumpton, District Aide. 20 Years of Service: Karen Adams, Elementary Teacher; Glenn Davis, High School Teacher & Coach; Debbie Hood, Transportation; and Kathleen Scrimshire, Middle School Teacher. 25 Years of Service: Gwenette Bryant, Elementary Administrative Assistant; Tami DeArmon, Elementary Teacher; and Joyce Hendrix, District Aide. 30 Years of Service: Tandy Gray, Middle School Teacher; and Frank Janaskie, Middle School Principal. Retirement: Theresa Haaser, 6 years of service; Joyce Fason, 9 years of service; and Betty Kolasch, 14 years of service. Along with congratulating our faculty members both on milestone years of service and retirement, we would also like to say thank you to all of our faculty members who distributed food this year during the pandemic. Thank you to each and every one of you for your commitment to our students, community, and staff members. To see photos of the aforementioned faculty members, please click the following link:
https://photos.app.goo.gl/pKDyLwm2oonvxZ376

The state has taken HAC (Home Access Center) down for an upgrade. At this time, it could be off-line for up to 48 hours.

Fountain Lake's recent Graduate Marcus Needles won the Arkansas HS Athletic Administration Association's annual Scholarship with his essay on how high school athletics enhanced his education. As the State of Arkansas' nominee, Marcus is also in the running for the NIAAA Section 6 award, too. Congratulations, Marcus Needles!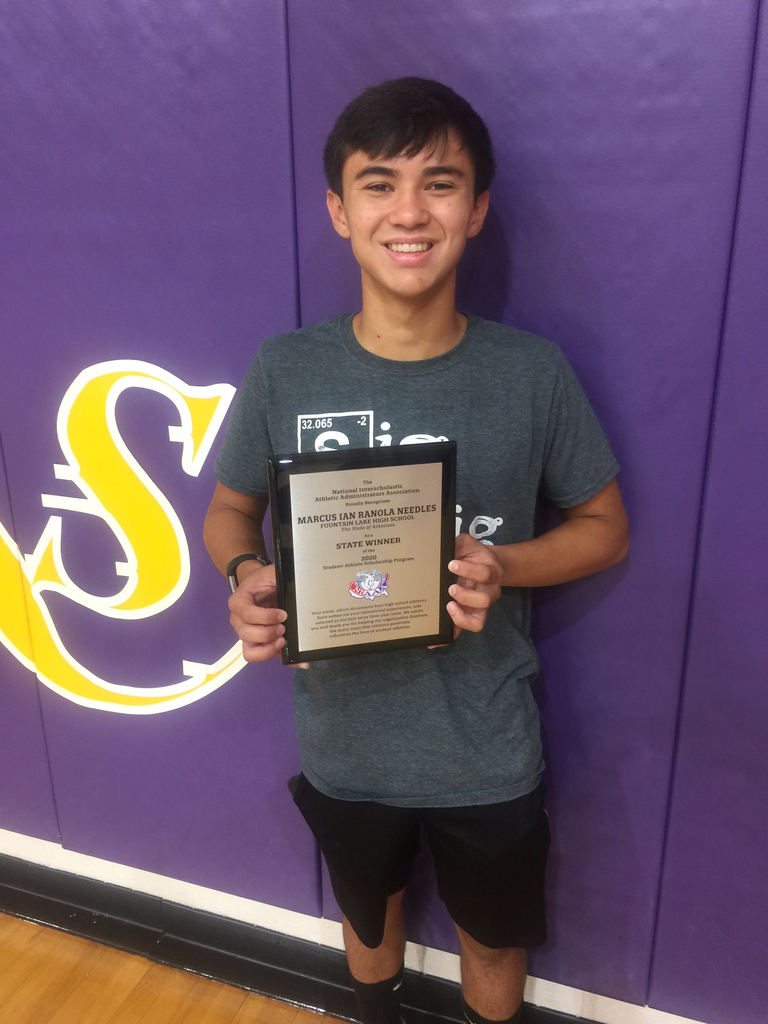 Open House/ Virtual Student Orientation Schedule Thursday, August 13th, 2020 Virtual Elementary Student Orientation K-1st (Auditorium) 5:00-6:00 P.M. 2nd-4th (Auditorium) 6:00-7:00 P.M. Tuesday, August 18th, 2020 Kindergarten Open House (Face-to-face, by appointment only) 2:00-6:00 P.M. 9th Grade Freshman Orientation (Face-to-face in the auditorium) 4:00-5:00 P.M. 9th-12th Virtual Student Orientation (Auditorium) 5:00-6:00 P.M. Wednesday, August 19th, 2020 Pre-K Open House (Face-to-face, by appointment only) 2:00-6:00 P.M. 5th-8th Virtual Student Orientation (Auditorium) 5:00-6:00 P.M. 5th Grade Open House (Face-to-face in the Middle School) 5:00-7:00 P.M. *** No open house for grades 1st-4th, 6th- 8th, or 10th-12th. *** Pre-K thru 6th grade: Homerooms will be posted on the building doors on Friday, August 14th. *** 7th thru 12th grade class schedules will be posted on HAC on Thursday, August 13th.

Fountain Lake Football Fans, There has been a small change for the Junior High Football Benefit Game. Though originally scheduled for Tuesday, August 18, the game against Magnet Cove Jr High HAS BEEN MOVED TO MONDAY, AUGUST 17. Game time is now scheduled to begin at 7:00 pm.

Cobra PeeWee Football players and parents, Fountain Lake is, and has been, in discussion with other schools about the upcoming PW football season. At this time, no decisions have been made concerning practices starting or games played for the 2020 season. All of this is very fluid situation and we will get information out as soon as we know more. Thank you for your patience.