Fountain Lake Charter High School will be offering summer school for credit recovery from June 7 through July 1, Monday through Thursday of those weeks for English, Math and Science only. These classes will be offered digitally, but may be completed at home or onsite. If you would like your student to attend summer school please check your student's email to sign up. Sign-ups are due by May 7th. If you have any questions please feel free to contact Mr. Baxley or Mr. Robertson at the high school office.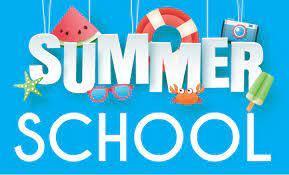 #CobraChef Coach Kerlin and Mrs. Libby Kerlin cooked a delicious meal on this week's episode of Cobra Chef! #FoodFriday
https://youtu.be/j63PtZFrOUA
Class of 2021, Due to lifted restrictions that were previously placed by the Hot Springs Convention Center and the Department of Education, we will no longer give out tickets for graduation. Please invite those who you would like to attend your graduation ceremony. Masks are recommended but will be optional. If you have any questions, please feel free to contact Mr Baxley or Mrs Keys at 501-701-1700.

Last month, we announced that students selecting to be virtual for the 2021-2022 school year would be enrolled in Virtual Arkansas classes. Please let us know if you will be virtual by April 30th so we can enroll you before the classes fill up. Call or email Carmen Keys at 501-701-1700 ext. 1749 or
ckeys@flcobras.com
. Thank you!


#SeniorEvents

#SeniorReminders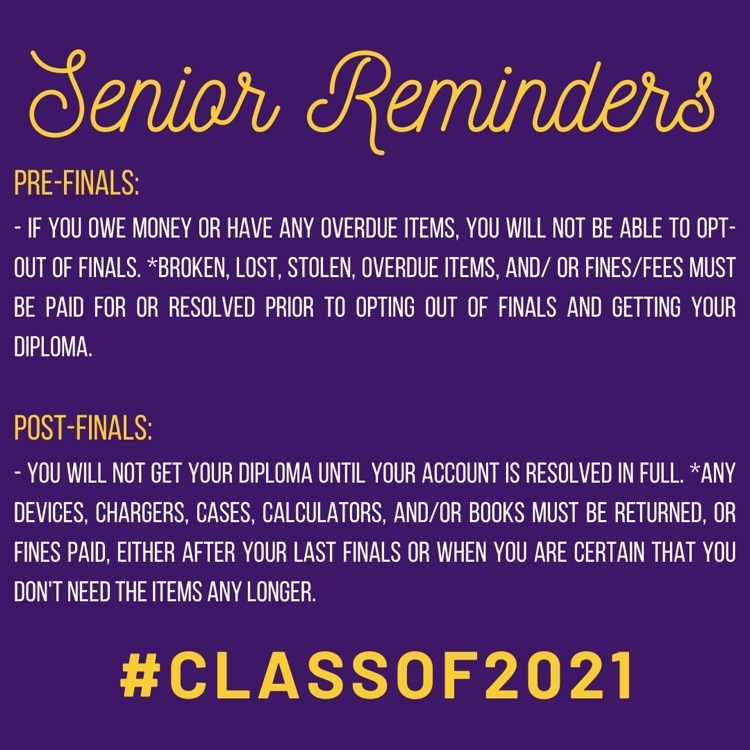 The Fountain Lake Band Booster meeting will be held on Tuesday, April 13th at 6:30 P.M.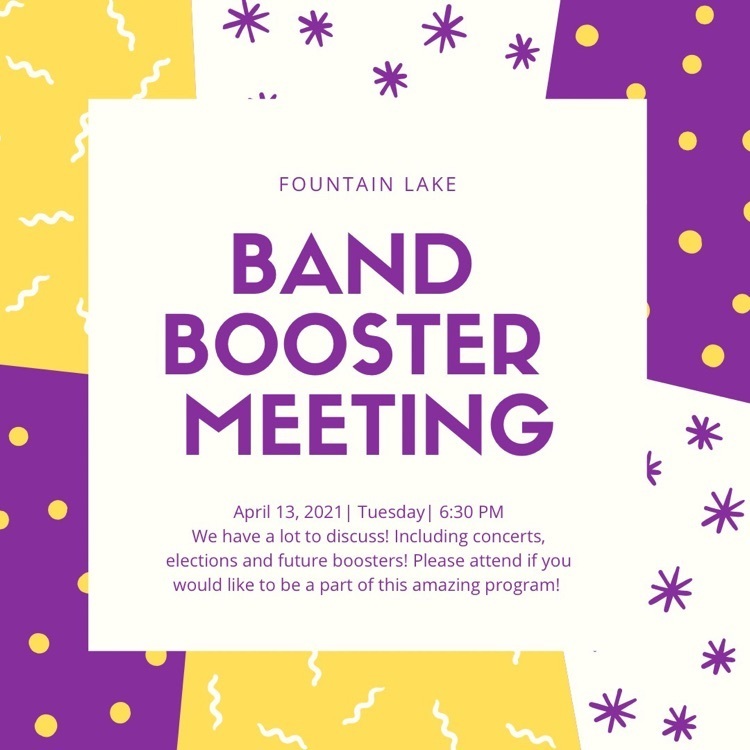 Fountain Lake High School will be holding a blood drive on Thursday, April 29th from 9:00 A.M. - 1:30 P.M.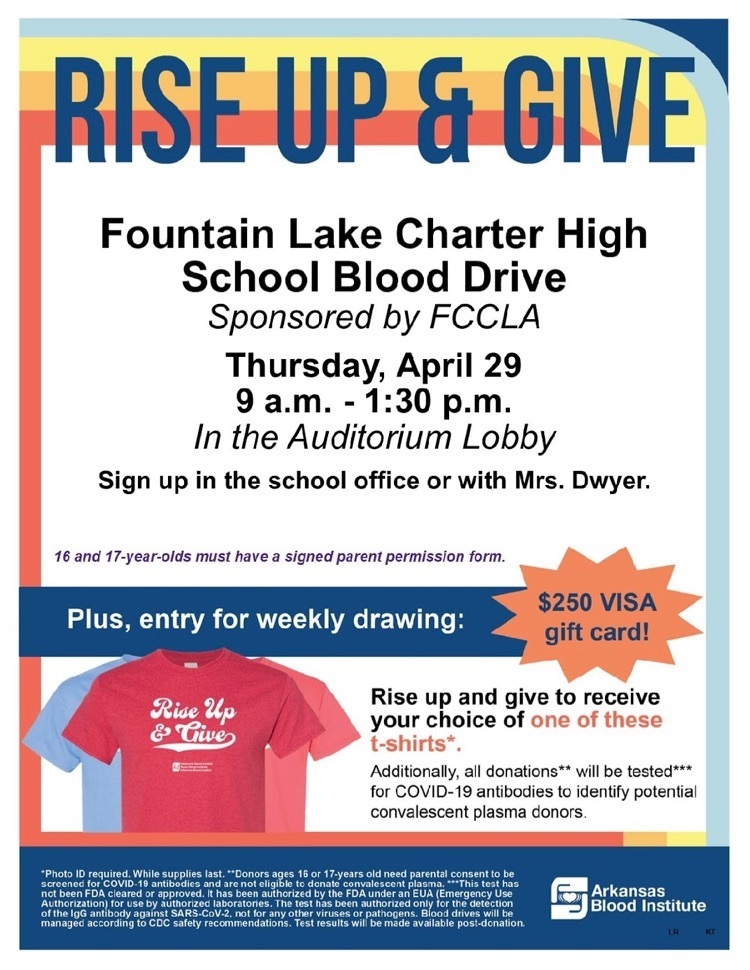 The following college courses are available on Virtual Arkansas for next year's Juniors and Seniors (through Arkansas Tech University). Students must have a 19 or higher on the Reading portion of the ACT or an equivalent score on the ACCUPLACER. • Experiencing Art • Public Speaking • World History I • World History II • US History I • US History II • Beginning Spanish I If you are interested in taking one of these courses, please contact Mrs. Keys, so she can give you the packet needed for enrollment. The deadline to apply is on April 16th.

10th & 11th GRADE STUDENTS Students who plan to attend either their 1st or 2nd year of a program at National Park Tech Center (NPTC) are required to complete an application. These applications are due to Mrs. Keys by Thursday, April 15th. Remember, to qualify for the National Park Promise scholarship a student has to be enrolled in the same NPTC program for both years and complete all necessary program requirements. Applications have been emailed to students. Applications can also be picked up in the high school office. For more information, contact the school counselor, Mrs. Keys (
ckeys@flcobras.com
).

While Governor Hutchinson lifted the mask mandate today, he also announced that each local board of education must take action to maintain or change local policy. Until the school board takes action, the Fountain Lake School District mask policy will remain in place. Following board action, any policy modifications will be communicated to you all. Thank you.

#PROM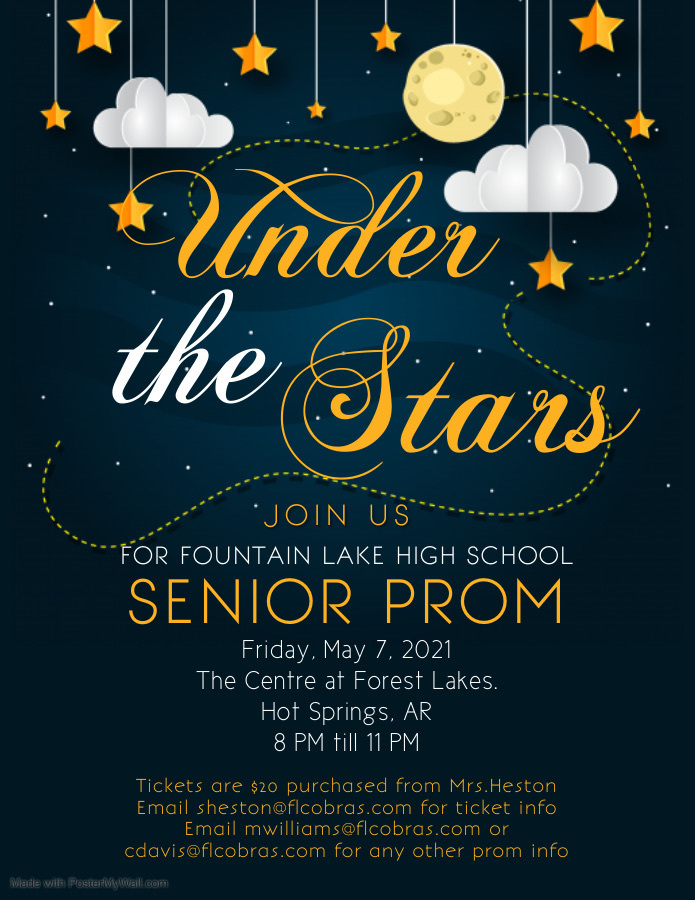 JUNIORS & SENIORS: Representatives from Herff-Jones will be in the front of the auditorium on Tuesday, March 16th from 9:00 A.M. - 10:30 A.M. to deliver rings and graduation items to those who ordered them. Make sure that you have money to pay your remaining balance (unless you have already paid in full).

Fountain Lake Charter High School will be holding virtual Scheduling/CAPS conferences on Monday, March 15. Students in grades 9-12 will not attend classes on this day. Instead, students and parents will attend a short virtual appointment with the student's advisor to discuss their six year plan. During this meeting students will also sign up for next year's classes, so it is very important for you to participate. Students have been working with their advisors to prepare for this conference and must participate in this final meeting with you in order to be counted present for the day. Your student's advisor should be contacting you to schedule the appointment. Again, there will be no classes for grades 9-12 on Monday, March 15. If you have any questions please do not hesitate to contact the high school office.

The next ACT exam is on April 17th. To avoid late fees, register by March 12th.
https://www.act.org/

The FLCHS Media Center is hosting an online book fair! The book fair will begin on Monday, March 8th, and end on Sunday, March 21st. The books range from K - 12, and anyone can place an order! The prices range from $5.00 to $18.00. Orders over $30 qualify for FREE shipping directly to your home. Click on this link to take a look at the books and start shopping:
https://athomebookfairs.com/home?bfstring=ys8hN6Lw

Yesterday, our eSports team played their first League of Legends match for the spring season! We started out the season with a win!