Good Afternoon, Our janitorial contracted service SSC is still hiring. Reach out to Jon Dufriend to apply. 501-209-9860. Great benefits offered!

Substitute Bus drivers needed. Morning and/or Afternoon routes. Must be 21 years old and possess a Class B CDL. Need good driving record, have no criminal history and submit to a drug screen. $25.84 per hour Fountain Lake School District is an Equal Opportunity Employer. See district website for online application or contact Joel Bryant, Director of Transportation, 501-701-1700,
jrbryant@flcobras.com
.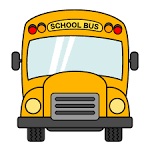 FLCHS Student Council and United Way are collecting school supply donations for students in our community that are in need. Give them a high five and a donation if you're able! They'll be at the Village Wal-Mart until 3:00pm this afternoon.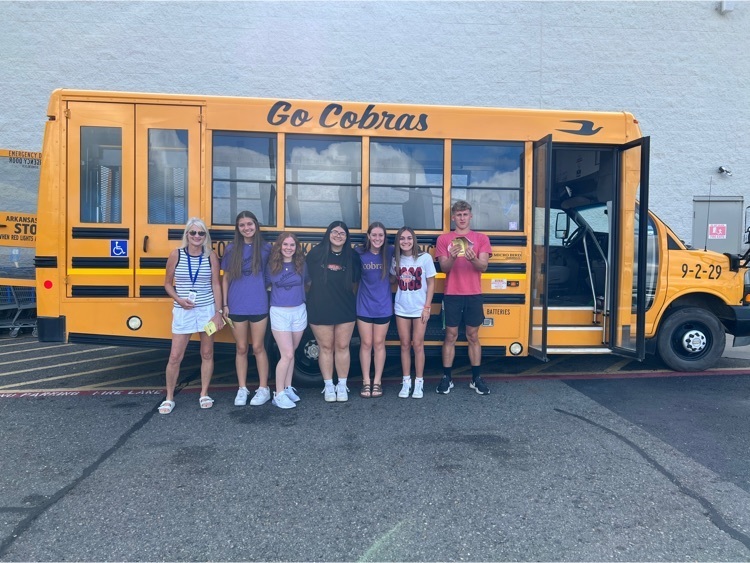 Fountain Lake Schools recognizes that many families are struggling in this current economic climate. We would like to remind everyone that with the help of our community partners we can provide assistance to families having trouble buying back to school supplies. Please contact your school counselor for more information.



FLSD Meal Benefit Plan The National School Lunch Program (NSLP) waiver that provided free meals to students due to the COVID-19 pandemic expired on June 30, 2022. This means that school meals will no longer automatically be free for everyone. Did you know that it's more than a meal? Free and Reduced lunch applications affect funding in many areas. All families are encouraged to complete the new meal benefit application to ensure continued funding to support ALL students in our district. Please submit an application to qualify for free meals at Fountain Lake School District during the 2022-2023 School year by clicking the following link: fountainlake.strataapps.com If you have any questions, please reach out to Judy Howard at 501-701-1700 x 1725 or by email
jhoward@flcobras.com


2022 Back to School Information July 26 and August 2 - 10AM-6PM New Student Registration - All Grades August 9 - 6PM Ninth Grade Student/Parent Orientation - Sargo Auditorium August 11 - 5-7PM - Open House - All Grades August 15 - 7:55AM - First Day of School - All Grades

Pee Wee football Sign ups for 5th and 6th grade will be held Wednesday June 15 at the Football field from 4:00 - 6:00 pm. Also, any 3rd or 4th grade students who did not get to sign up on Monday may come on Wednesday to sign up. There will be a $25 registration fee. Please click on the attached link for the registration form. You may also stop by the Elementary or Middle School office to pick up a form. If you have any issues please reach out to Pee Wee Coordinator Matthew Kolb, Cell # 501-590-3430. There will also be a Coaches meeting on Tuesday June 21 at 5:30 pm in the FCA room at the football field house. We are hoping for a big turnout so please come by and sign up. Hope everyone has a great summer and Go Cobras!
https://docs.google.com/document/d/0B2UKtaxcZ1ziUVJYRmxacU1FOGc/edit?usp=sharing_eil_se_dm&rtpof=true&sd=true&resourcekey=0-BvwEpqVU3y5ec6HLWfApHA&ts=629654bc

Cobra Reading Pit - Summer 2022 Schedule. June 7, 9, 21, & 23/ July 12, 14, 26 & 28. See attached for times and locations.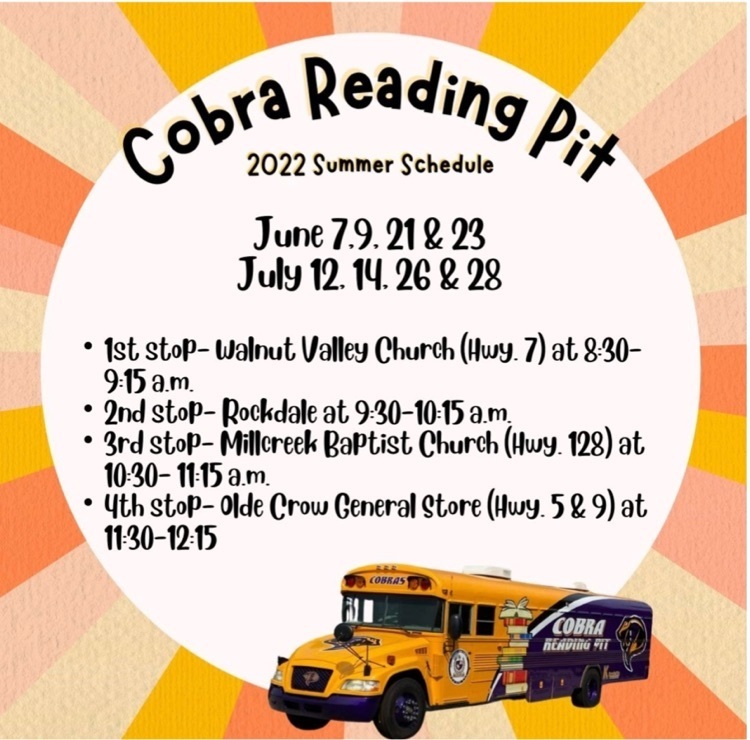 As a part of our partnership with Chartwells, our families are invited to participate in the summer feeding program conducted through the Hot Springs School District. The attached flyer includes dates, times, and locations that free summer meals may be picked up.

All football players and parents are asked to attend a player/parent meeting in the Sargo Auditorium on Tuesday, May 31 at 5:30PM.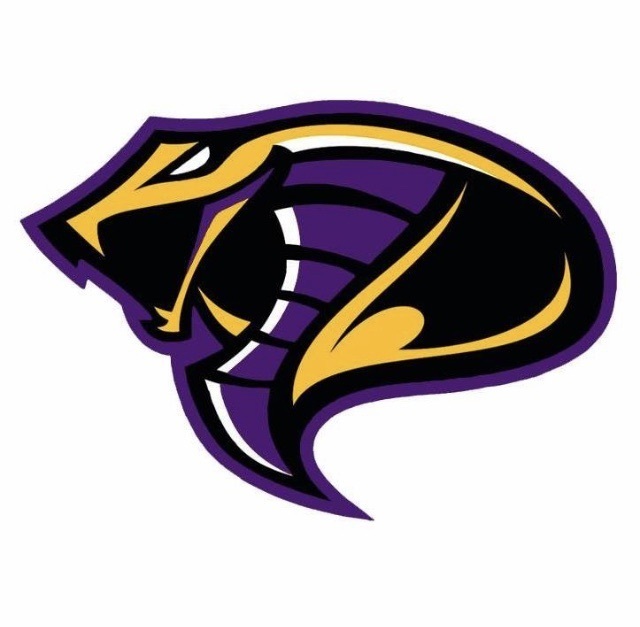 Congratulations on your retirement!! Larry Moline has been a bus driver for the Fountain Lake School District for 26 years! We hope you have a wonderful retirement!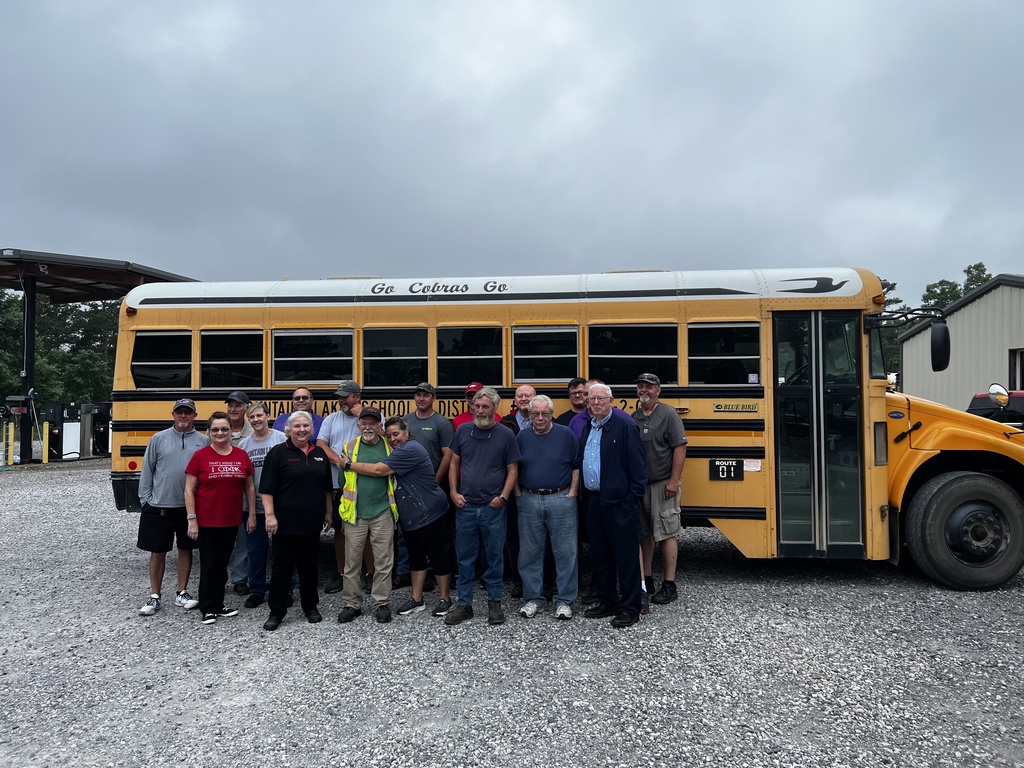 Fountain Lake School District is seeking applications for the following position for the 2022-2023 school year. Bus Driver: 178 day contract per District Salary Schedule ($25.84/hour-drive time) Qualifications: A driver must be over the age of (21) twenty-one, good driving and criminal record, be able to obtain an Arkansas Driver's License, provide a clean drug screen, and provide a physical that is required by the Arkansas Department of Education once every (2) two years. A driver must obtain a Class "B" license with Air Brake, Passenger, and School bus Endorsements. If interested, email us at
apply@flcobras.com
FLSD is an Equal Opportunity Employer.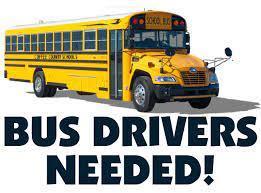 Safe Room A & B are unlocked. Both safe rooms Auto Unlock anytime a tornado warning is in effect. Stay safe!!

We still have some old yearbooks for sale! If you would like to purchase one reach out to Mrs. Albin at
kalbin@flcobras.com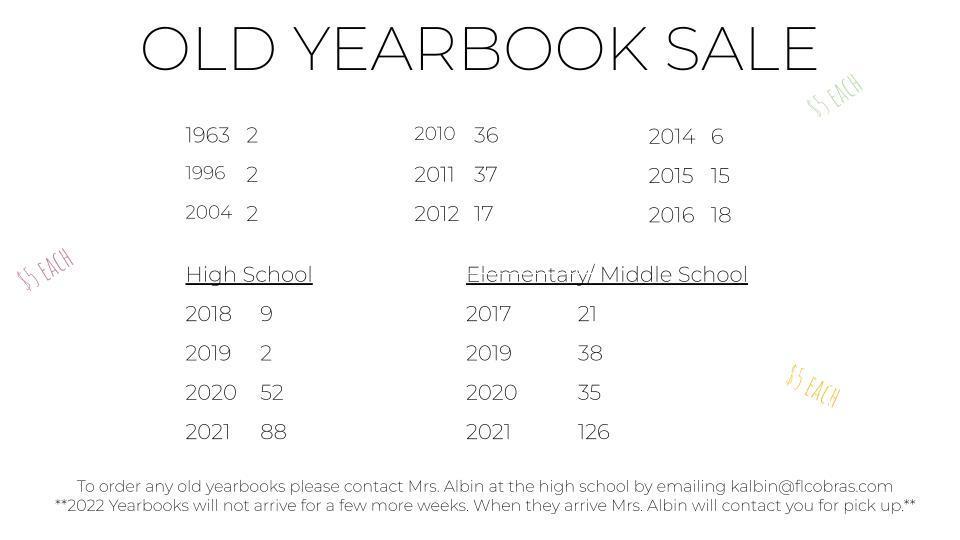 Reminder anyone that has signed up for the Drivers Education Class this summer. The class will be in Coach Mungle's Room (17206). The class starts Monday June 6th at 8:00 and be sure to bring your permit or Driver's License to class. Any questions email Coach Mungle at
cmungle@flcobras.com

FOUNTAIN LAKE CLASS OF 2022 Diplomas are ready to be picked up! Please stop by the high school office between 9 and 2 before Friday, May 20, 2022.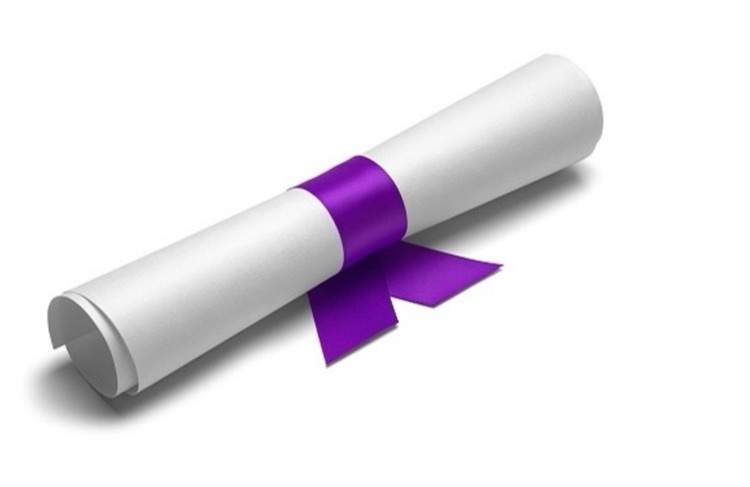 Fountain Lake Charter High School we will be holding Scheduling/CAPS conferences on Monday, May 16th. Students will not attend classes. Instead students and parents will attend a short appointment with the student's advisor to discuss their six year plan. During this meeting students will also sign up for next year's classes, so it is very important for you to participate. Students have been working with their advisors to prepare for this conference and must participate in this final meeting with you in order to be counted present for attendance for the day