Pee Wee football Sign ups for 5th and 6th grade will be held Wednesday June 15 at the Football field from 4:00 - 6:00 pm. Also, any 3rd or 4th grade students who did not get to sign up on Monday may come on Wednesday to sign up. There will be a $25 registration fee. Please click on the attached link for the registration form. You may also stop by the Elementary or Middle School office to pick up a form. If you have any issues please reach out to Pee Wee Coordinator Matthew Kolb, Cell # 501-590-3430. There will also be a Coaches meeting on Tuesday June 21 at 5:30 pm in the FCA room at the football field house. We are hoping for a big turnout so please come by and sign up. Hope everyone has a great summer and Go Cobras!
https://docs.google.com/document/d/0B2UKtaxcZ1ziUVJYRmxacU1FOGc/edit?usp=sharing_eil_se_dm&rtpof=true&sd=true&resourcekey=0-BvwEpqVU3y5ec6HLWfApHA&ts=629654bc

Cobra Reading Pit - Summer 2022 Schedule. June 7, 9, 21, & 23/ July 12, 14, 26 & 28. See attached for times and locations.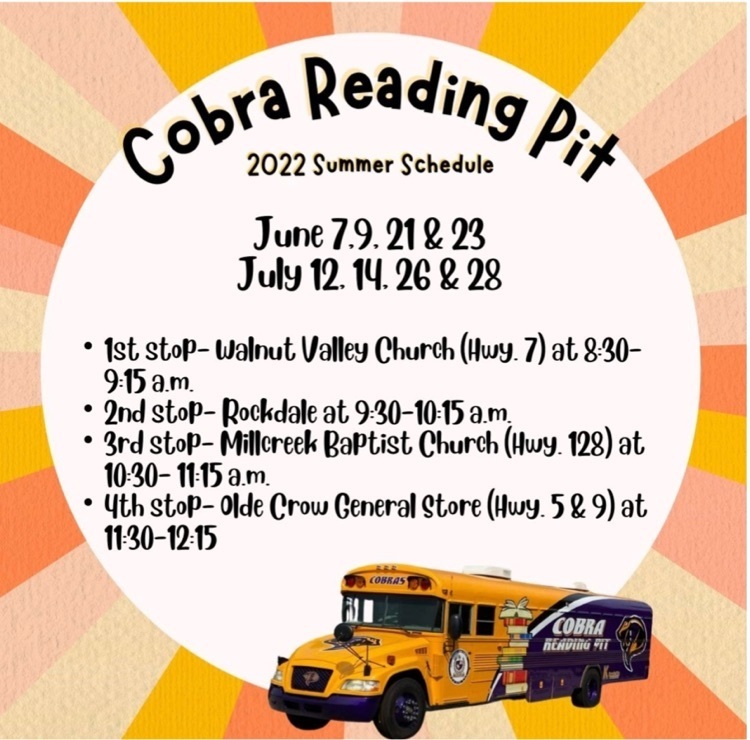 As a part of our partnership with Chartwells, our families are invited to participate in the summer feeding program conducted through the Hot Springs School District. The attached flyer includes dates, times, and locations that free summer meals may be picked up.

All football players and parents are asked to attend a player/parent meeting in the Sargo Auditorium on Tuesday, May 31 at 5:30PM.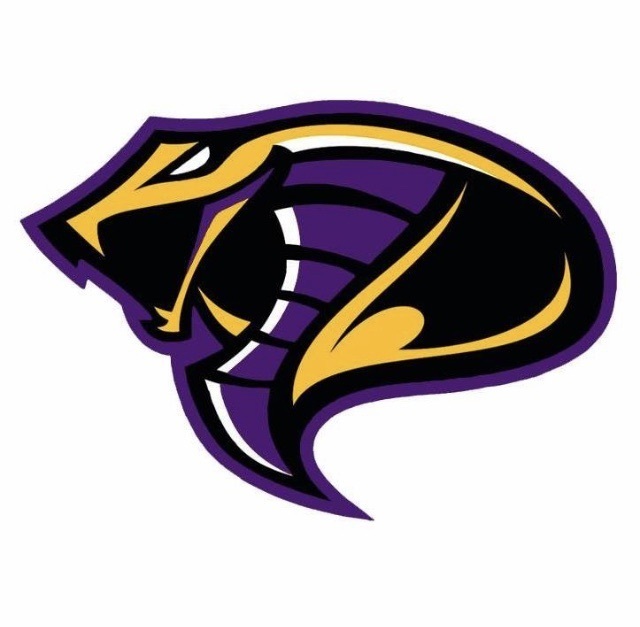 Congratulations on your retirement!! Larry Moline has been a bus driver for the Fountain Lake School District for 26 years! We hope you have a wonderful retirement!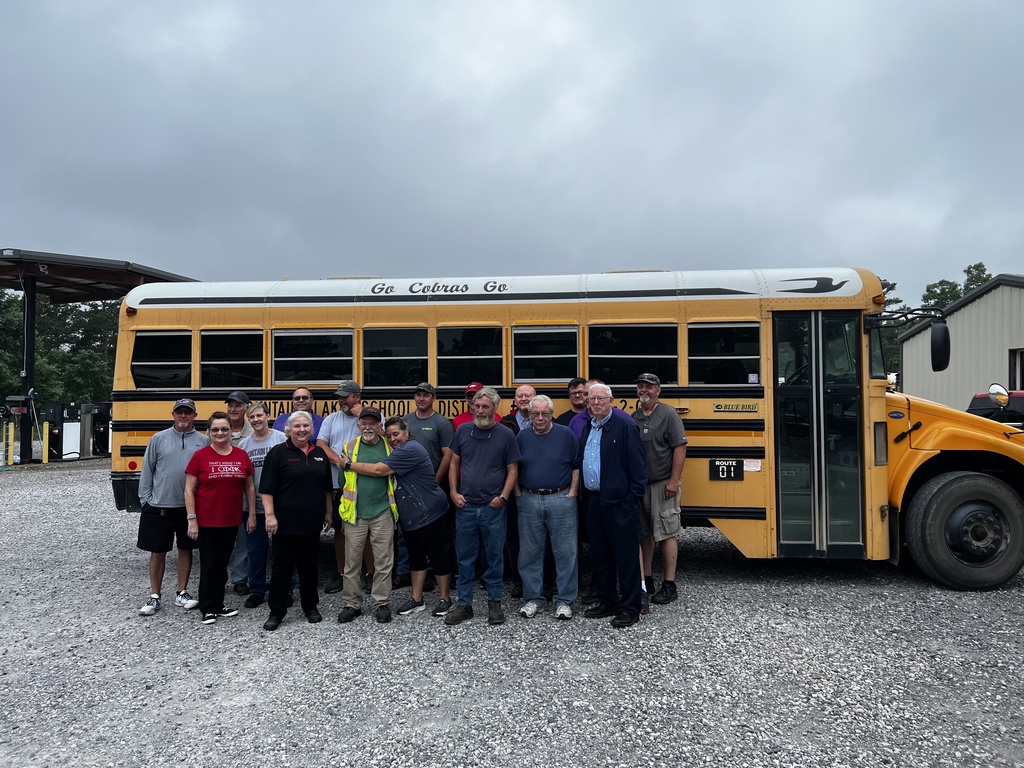 Fountain Lake School District is seeking applications for the following position for the 2022-2023 school year. Bus Driver: 178 day contract per District Salary Schedule ($25.84/hour-drive time) Qualifications: A driver must be over the age of (21) twenty-one, good driving and criminal record, be able to obtain an Arkansas Driver's License, provide a clean drug screen, and provide a physical that is required by the Arkansas Department of Education once every (2) two years. A driver must obtain a Class "B" license with Air Brake, Passenger, and School bus Endorsements. If interested, email us at
apply@flcobras.com
FLSD is an Equal Opportunity Employer.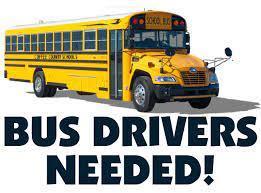 Safe Room A & B are unlocked. Both safe rooms Auto Unlock anytime a tornado warning is in effect. Stay safe!!

We still have some old yearbooks for sale! If you would like to purchase one reach out to Mrs. Albin at
kalbin@flcobras.com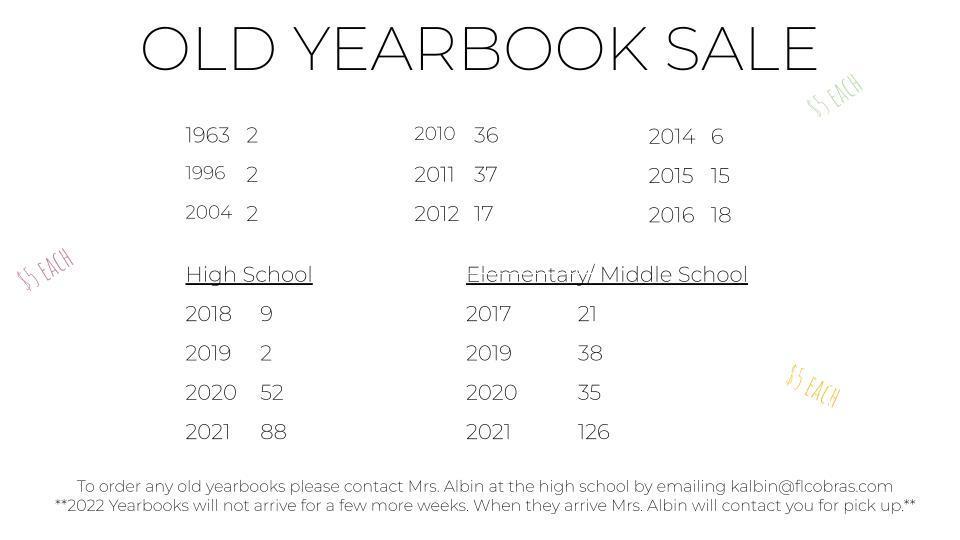 Reminder anyone that has signed up for the Drivers Education Class this summer. The class will be in Coach Mungle's Room (17206). The class starts Monday June 6th at 8:00 and be sure to bring your permit or Driver's License to class. Any questions email Coach Mungle at
cmungle@flcobras.com

FOUNTAIN LAKE CLASS OF 2022 Diplomas are ready to be picked up! Please stop by the high school office between 9 and 2 before Friday, May 20, 2022.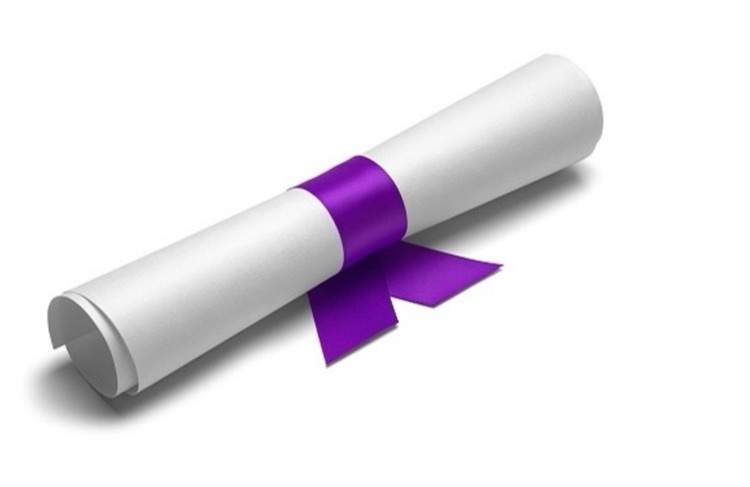 Fountain Lake Charter High School we will be holding Scheduling/CAPS conferences on Monday, May 16th. Students will not attend classes. Instead students and parents will attend a short appointment with the student's advisor to discuss their six year plan. During this meeting students will also sign up for next year's classes, so it is very important for you to participate. Students have been working with their advisors to prepare for this conference and must participate in this final meeting with you in order to be counted present for attendance for the day

Almost graduation time! Congratulations to the Fountain Lake Class of 2022!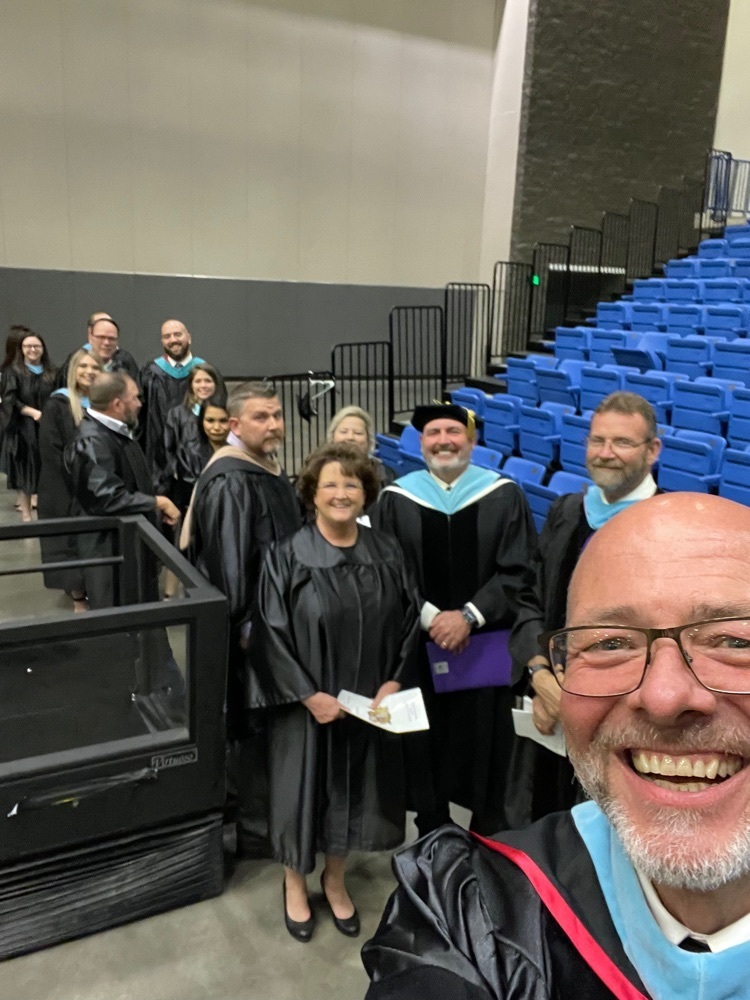 Graduation practice will take place today at 10:00AM at the Hot Springs Convention Center Bank OZK Arena. Attached are the Convention Center Security Policies. Tonight's ceremony will be Live Streamed on the Fountain Lake School District Facebook page at 7:00PM.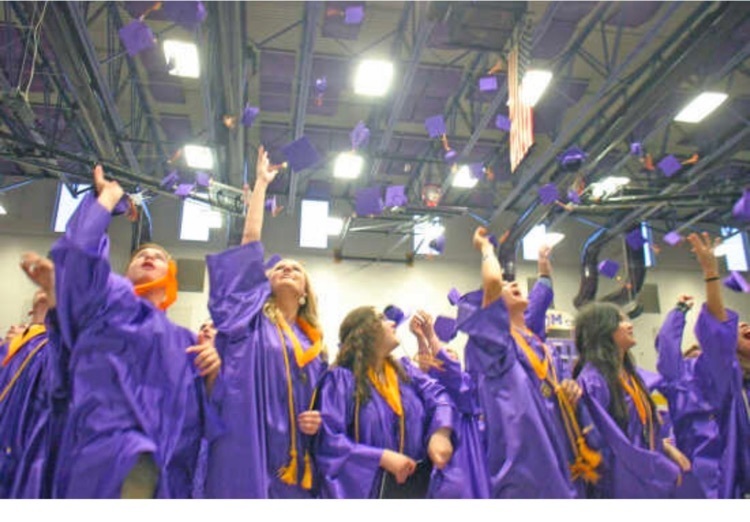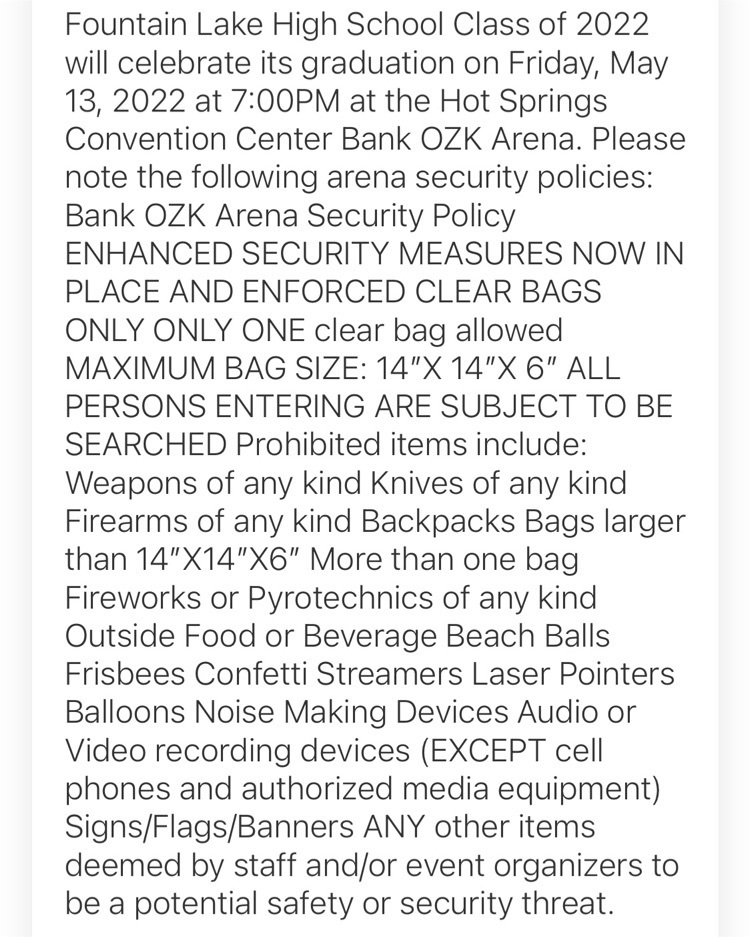 Dawson Pre-School on Fountain Lake campus Teaching position open for 2022-2023 school year.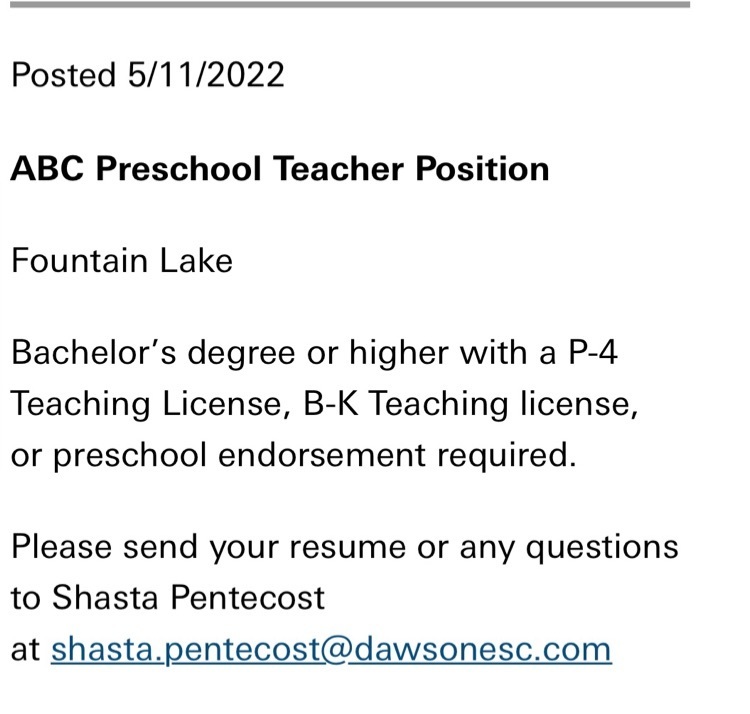 Fountain Lake School District Solar Power Plant Goes LIVE! The Fountain Lake School District and Scenic Hill Solar hosted a ribbon-cutting ceremony for the District's solar power plant on Monday, May 9 at 4:00 PM Dr. Michael Murphy, Superintendent of the Fountain Lake School District said, "We are excited to celebrate and enjoy the benefits of the solar power plant with our Students, Staff, Parents and Community. Zero capital outlay for the school, reduced and predictable energy prices, environmental benefits and a showcase for STEM learning: this project is a win-win all around." "We are honored to partner with Dr. Michael Murphy and the Fountain Lake School Board on a bold and innovative project for the School District," stated Bill Halter, CEO of Scenic Hill Solar. "This project not only saves money and provides electricity cost certainty for the School District, it will provide greater property tax revenues for the community and establish Fountain Lake as a major contributor to improving the environment and all of this during a time of rising fuel prices and economic instability." Students in the Photo: John Sullivan Gage Dryer Maci McCreary Treyton Gray Christian O'Neal Sam Howard Addison Moore Dillon Dettmering Gracie Chapin James Spears Austin Wendel Deacon Garrett Administration Michael Murphy Steve Campbell Hayden Fusilier Steve Freeman Jennifer Freeman Sarah Mushrush Board Members Dana Greeson Cindy Herring Bryant Lambert Scenic Hill Solar Carrie Kyhl Lauren Heniz Representative Representative Richard McGrew Representative from Bruce Westerman's Office - Brendan Spaulding Not Photoed (Bill Sample)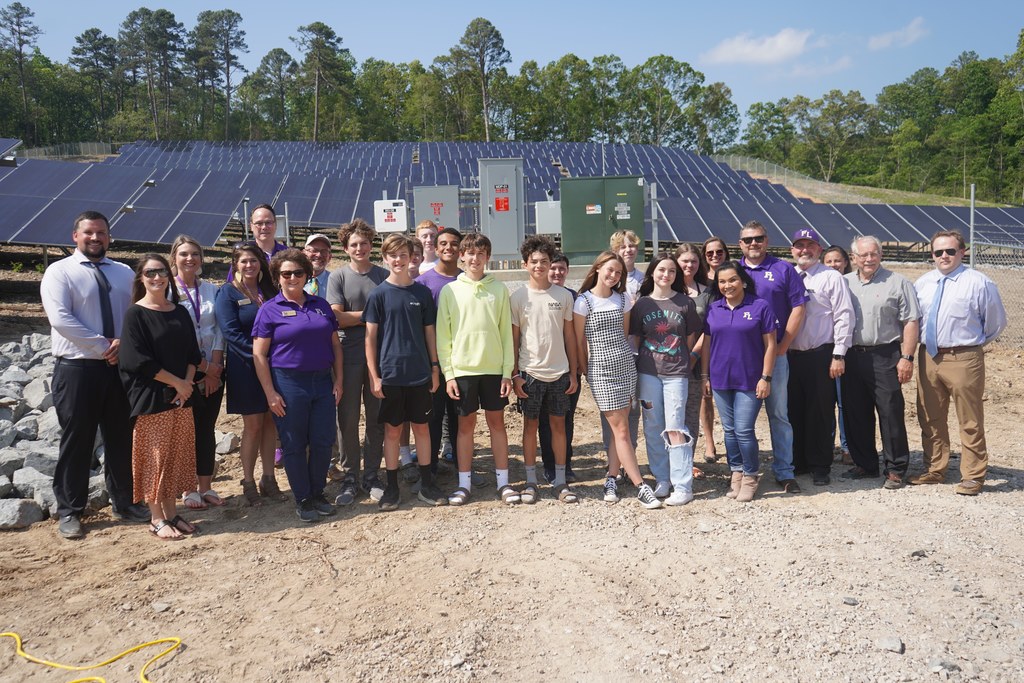 4th grade parents and students are invited to meet with 5th grade teachers and middle school administrators to begin the transition to middle school on Tuesday, May 10, 5:30-6:30PM in Safe Room A.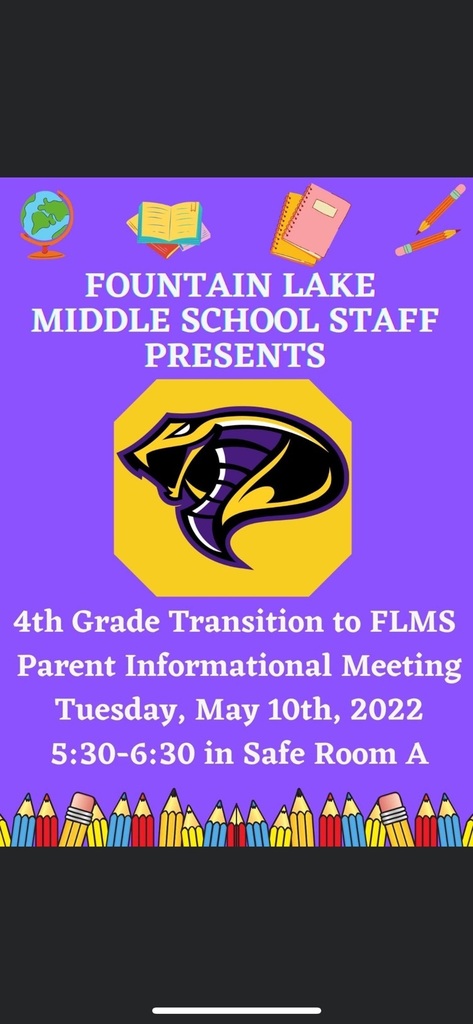 Attention FLHS CLASS OF 2023: Important Rising Senior Meeting for students and parents-May 24, 2022-Sargo Auditorium.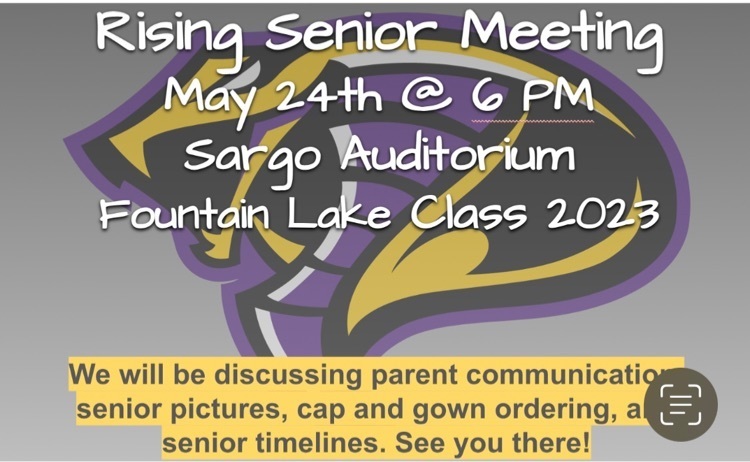 Fountain Lake High School Class of 2022 will celebrate its graduation on Friday, May 13, 2022 at 7:00PM at the Hot Springs Convention Center Bank OZK Arena. Please note the following arena security policies: Bank OZK Arena Security Policy ENHANCED SECURITY MEASURES NOW IN PLACE AND ENFORCED CLEAR BAGS ONLY ONLY ONE clear bag allowed MAXIMUM BAG SIZE: 14"X 14"X 6" ALL PERSONS ENTERING ARE SUBJECT TO BE SEARCHED Prohibited items include: Weapons of any kind Knives of any kind Firearms of any kind Backpacks Bags larger than 14"X14"X6" More than one bag Fireworks or Pyrotechnics of any kind Outside Food or Beverage Beach Balls Frisbees Confetti Streamers Laser Pointers Balloons Noise Making Devices Audio or Video recording devices (EXCEPT cell phones and authorized media equipment) Signs/Flags/Banners ANY other items deemed by staff and/or event organizers to be a potential safety or security threat.

COBRAS WIN 3-2 IN EXTRA INNINGS!!! Good win, boys! See you Saturday at 11!

Friday's regional baseball game at Malvern has been postponed one hour to 1:30pm due to field conditions.