Our new cleaning company, SSC Services For Education, is looking to hire a couple new employees. Applicants must be 18+ years old, have reliable transportation, pass pre-employment drug screen, and pass pre-employment background checks. Hours are 3:30pm-12:00am part time or full time. Experience is not necessary; they will train, and pay is 13$/hr. Full Time employees are entitled to benefits. If you would like to join the SSC team apply at sscserv.com/careers. Call Josh at 501-209-2941 to schedule your interview today!
Fountain Lake will travel to Cutter Morning Star on Friday October 21. for the Battle of the Gorge. This is a fun opportunity to renew old rivalries from years past when these two schools use to play in the old 5A South football conference. Both schools East labs have designed a T-Shirt for spectators to purchase and wear to the football game. All money raised through the T-shirt sales will be divided between each of the two schools athletic departments. Please support the Fountain Lake Cobras by purchasing a shirt. Click on the following link and follow the steps to make your purchase. If you have any questions please call or email Coach Carter or Devry Rhodes . Thanks and Go Cobras!
https://www.hometownthreadsmercantile.com/products/cutter-vs-fountain-lake-fundraiser-tee

The Boys & Girls Club will be closed this Monday, October 10, 2022 (they follow Jessieville's schedule). Thank you!


Greetings parents of Juniors and Seniors, The Project Prom Committee would like to invite you all to an informational meeting about Project Prom on Oct. 17  at 5:30pm in the coaches office on the football field.  This is the first year in over 20 years that all Juniors are invited to prom.  Lots of prizes will need to be collected and we can use your help.  Please make plans to attend. If you need more information please contact LeAnn Westerman @ 501-802-4308 or email
leannwesterman@gmail.com
On Wednesday, October 5th seniors, Wyatt Peters and Kamryn Whiley, we're recognized as October Students of the month by the Hot Springs Elks Lodge. The students and their families were invited to a banquet at the lodge. Pictured from left to right: Exalted Ruler Buddy Sweet, Kamryn Whitley, Wyatt Peters, and Linda Washington, Scholarship Chairperson.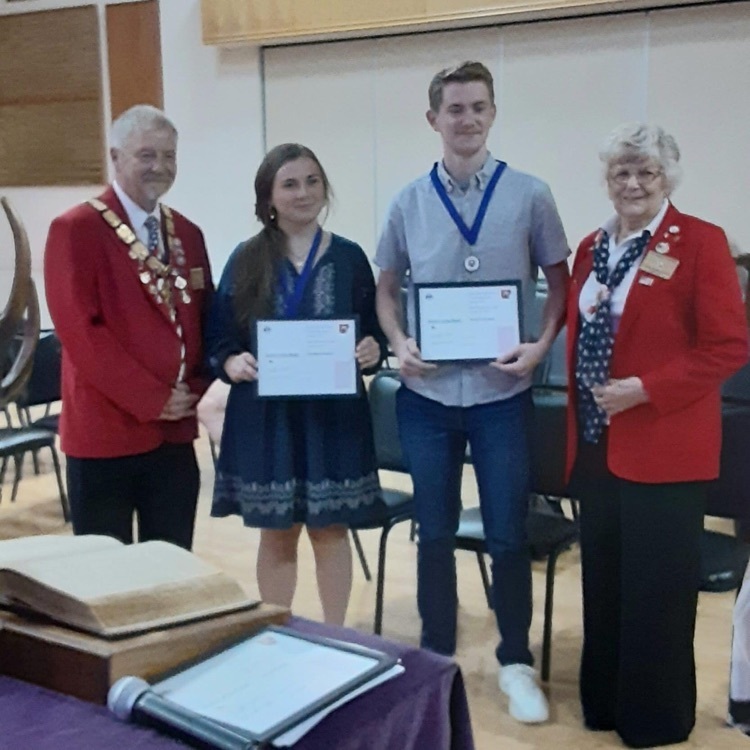 Tomorrow, Fountain Lake Middle School will be holding a #pinkout day! Wear your favorite pink outfit and help raise awareness for Breast Cancer Awareness Month.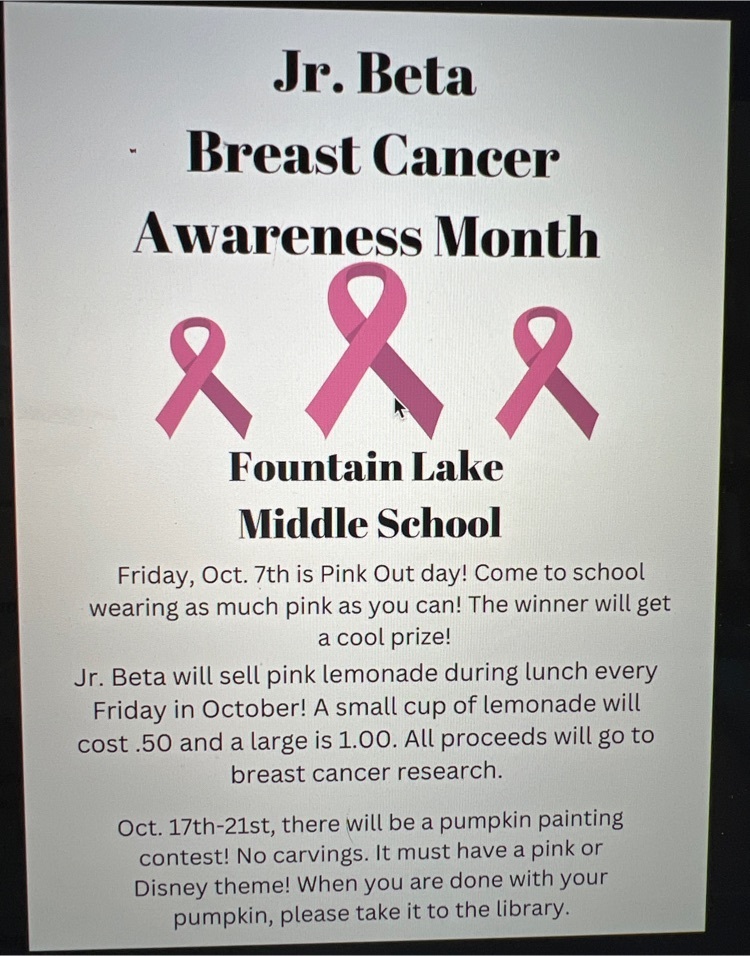 Parking for the football field will have a slight change for this Friday's game against Subiaco. We will not use the Gate entrance next to the Field house and concession stand to enter the game for this event. We will use all of the other gate entrances that we have used all season. (The new South Entrance and the entrance on the visitor side of the field behind the visitor bleachers).
Friday night, Oct 7, Fountain Lake School will be honoring all of our Seniors that Participate in Football, Golf, Tennis, Cheer, and Band Starting at 6:30 PM on the Football Field prior to the Football Game against the Subiaco Trojans. At Halftime of the Football Game we will recognize our Pee Wee Football teams and Coaches. We ask that everyone turnout this Friday to Honor our students and Cheer our Football Team on to victory. Thanks and Go Cobras!

October 11th the Arkansas Health Department will be on campus, in Safe Room A, to give flu vaccines. Flu Vaccines will be available for students and staff. Today the permission slips and information packets will be sent home. The purple page and the last page of the packet need to be filled out, front and back, and returned to the nurse. Please have these back asap so that preparations can be made.

Good evening, See below image from the City of Hot Springs regarding closure of Fox Pass northbound lane headed toward FLSD for Wednesday, October 5th and Thursday, October 6th. Thank You!

Congratulations to the Fountain Lake Middle School on receiving the Arkansas Sheriff's Association Red Ribbon Week Grant! These funds will be used to spread drug awareness to our students. Pictured - Under Sheriff Lawrence, Deputy Kizer, Middle School Counselor Mrs. Pryor and Principal Mrs. Inman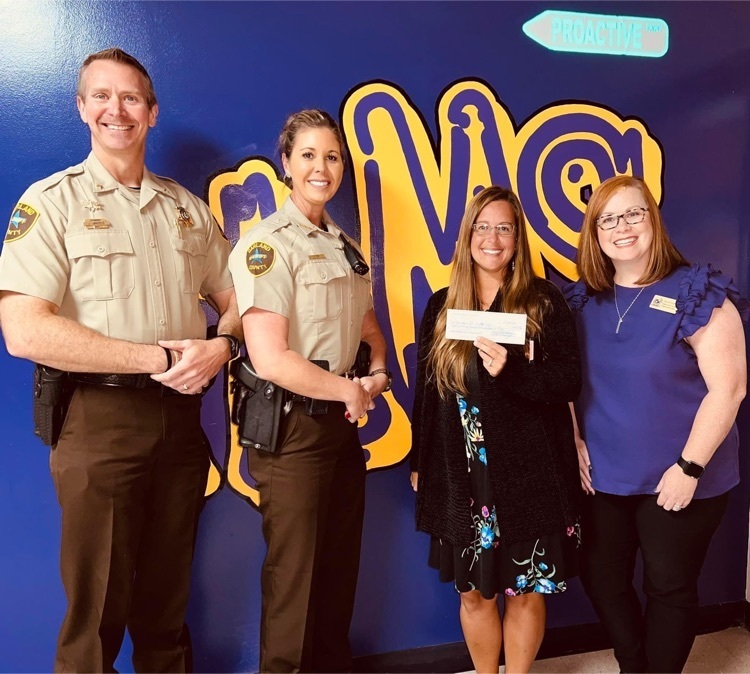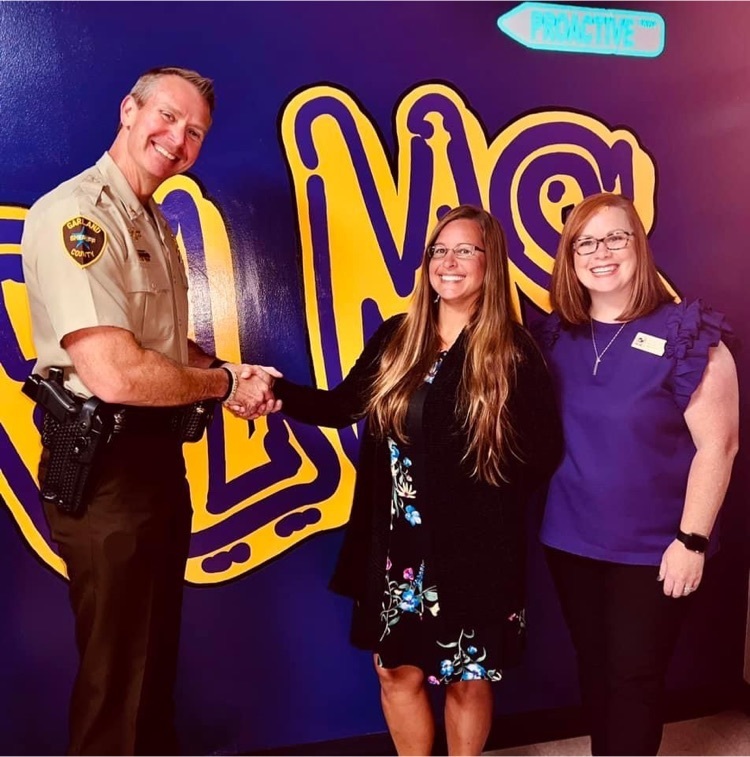 Boys Golf Team finished Runner - up for a state championship in the 4A State Golf Tournament at Magellan golf course in Hot Springs Village. All State Golfers were Kolt Carden and Carson McCoy. Congratulations guys on a successful year.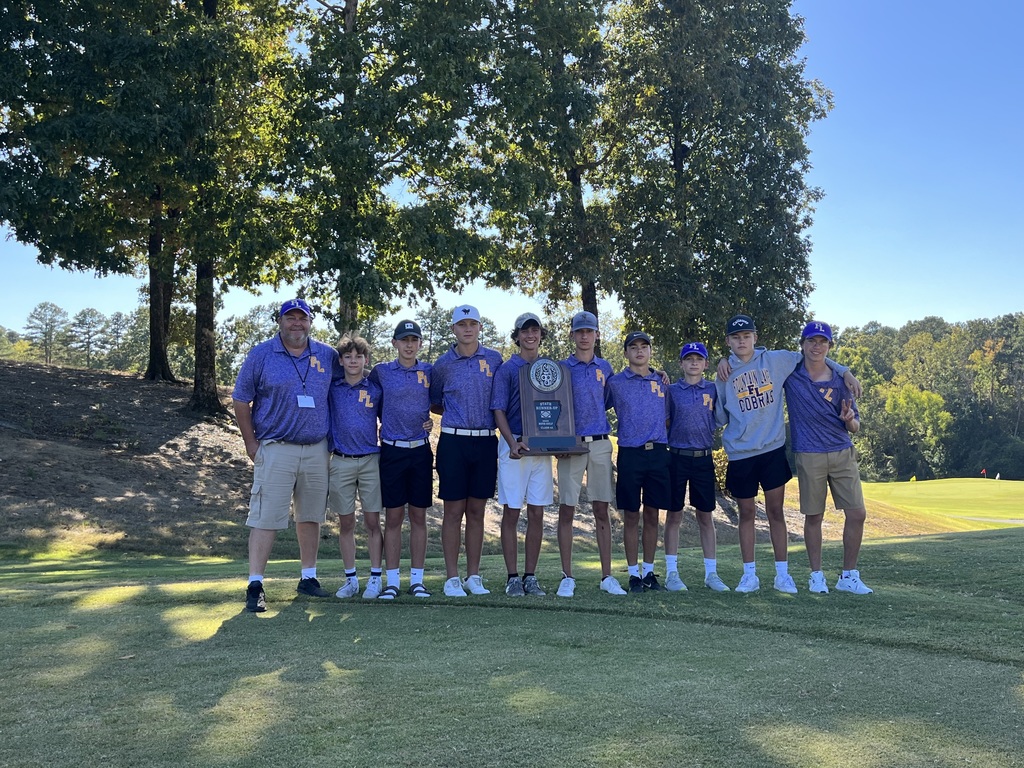 Boys Golf Team finished Runner - up for a state championship in the 4A State Golf Tournament at Magellan golf course in Hot Springs Village. All State Golfers were Kolt Carden and Carson McCoy. Congratulations guys on a successful year.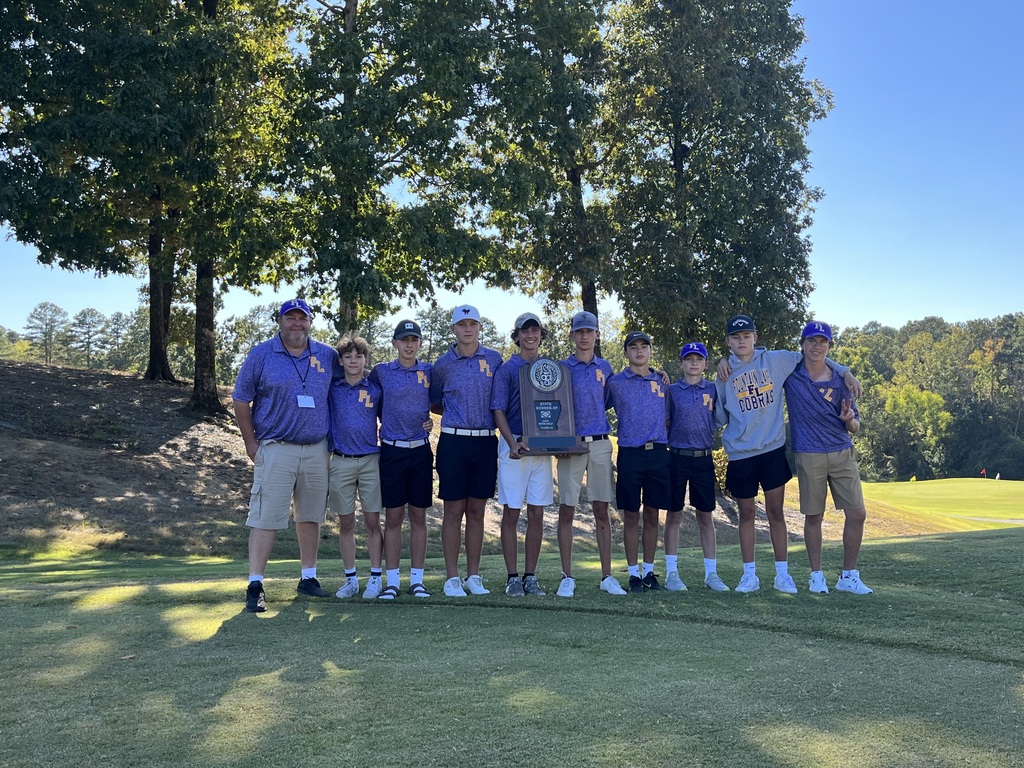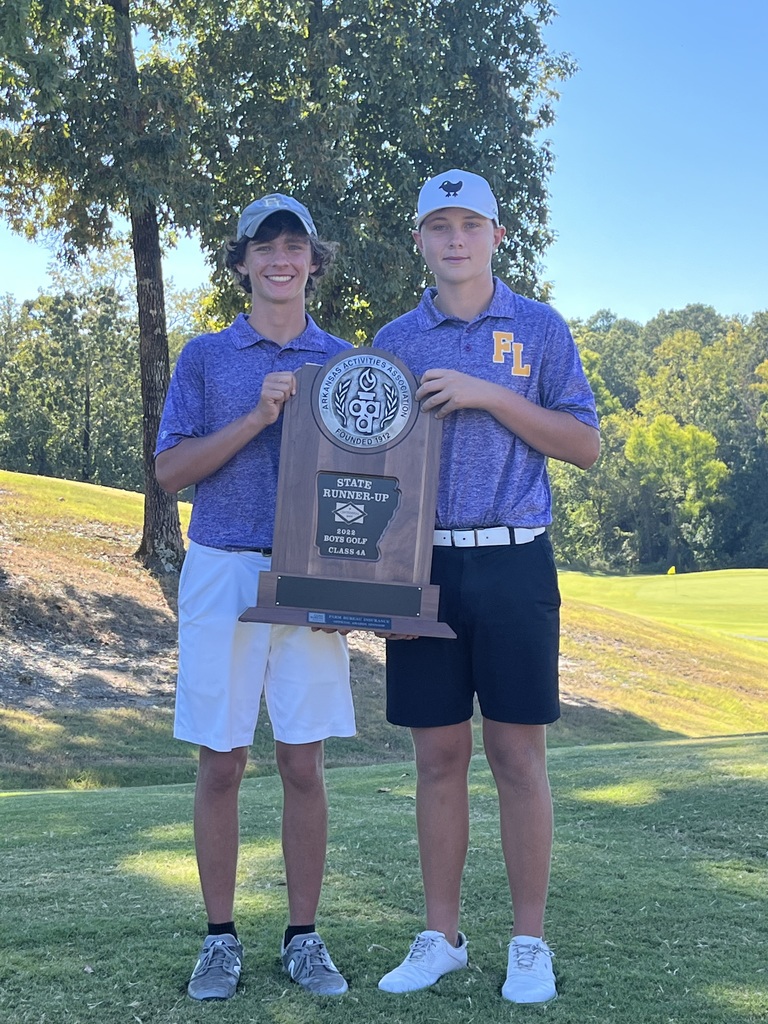 Seniors: Two scholarships are due at midnight tonight and 3 new scholarships were just added to the list! Be sure to check out the scholarship page weekly!!!
FCCLA will be selling popsicles to the elementary, middle school, and high school on September 30 During the Homecoming Parade. Bring $1.00 to enjoy a popsicle while watching the parade.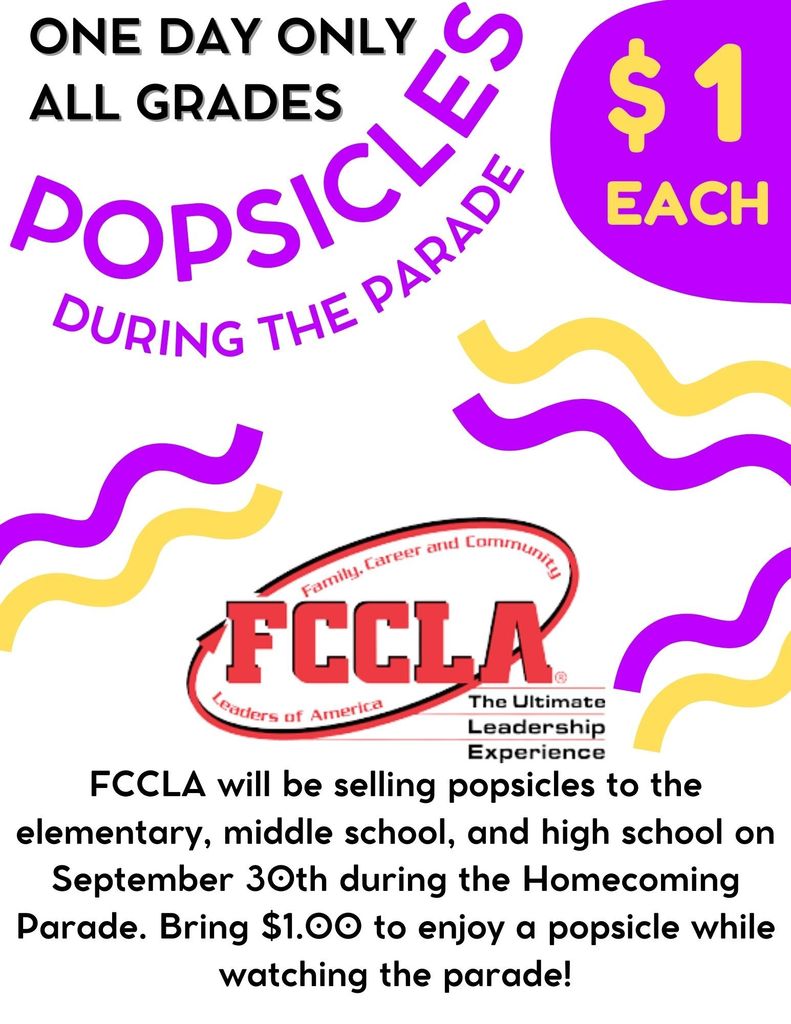 Cobra Trunk or Treat is Coming - Wednesday, October 26, 2022, 4:30-6:30PM!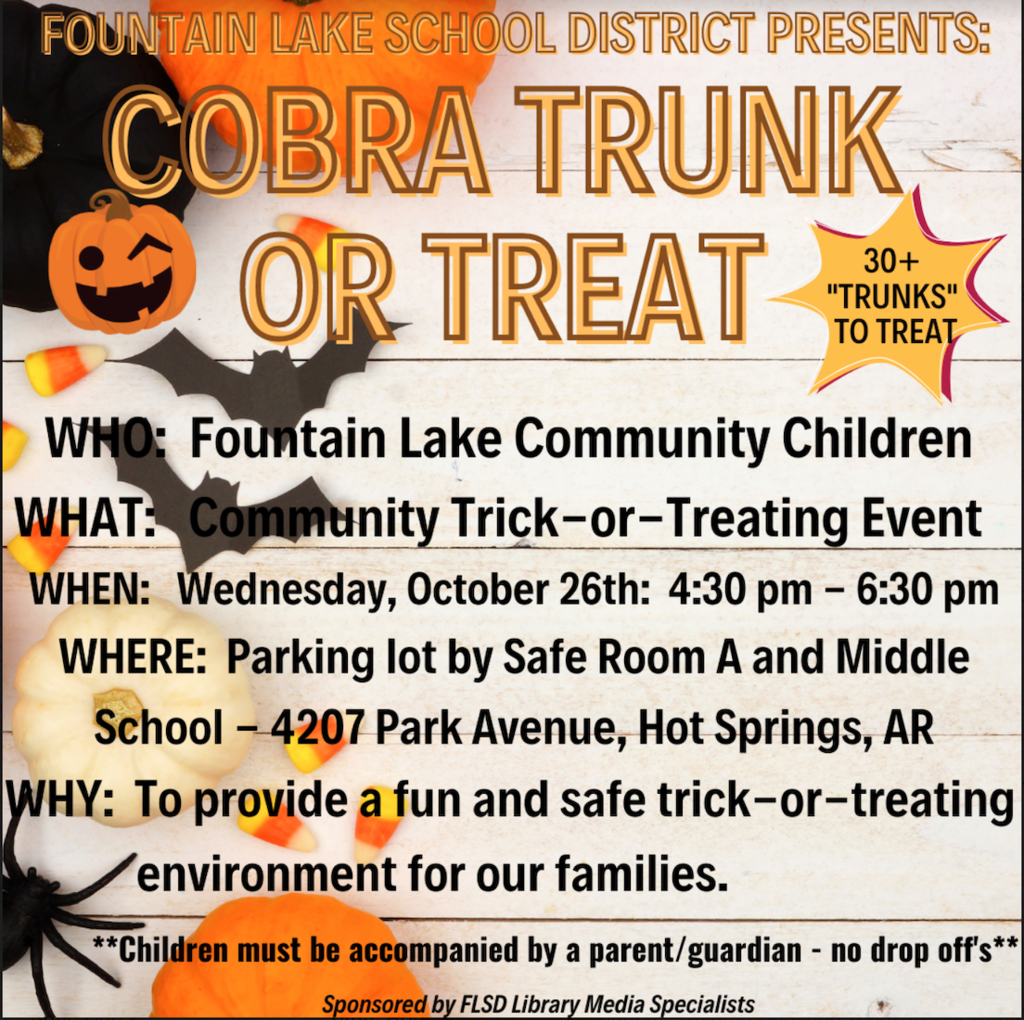 Ft. Lake football homecoming will be this Friday 9/30/22. Our Cheer squads will be helping lead a tailgate party prior to the homecoming ceremony and game from 4:00-about 5:15. We will open the gate at 4:00 pm for those who want to pay early to enter the stadium. We are inviting our community and students to come participate. There will be games, and food (hotdogs, chips, and drinks) will be provided by First Security Bank. If you have some small games like baggo for example, we welcome you to bring those and have a good time hanging out and getting ready to support our Homecoming court and the Football team, as we get ready to take on Genoa Central. We look forward to a big crowd Friday night, hope to see everyone there. Go Cobras!