Today's baseball and softball games have been moved to Hot Springs High's fields due to field conditions. A big THANK YOU to the Hot Springs Athletic Department for the help!

ACT scores from the March 31 junior test are available on myact.org

Congratulations to the 36 Seniors signing letters of intent to continue their educational careers in college and career programs next Fall.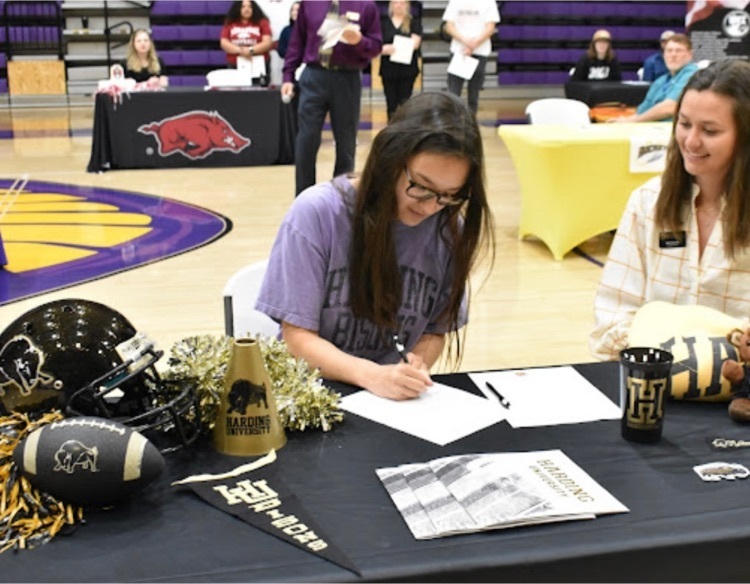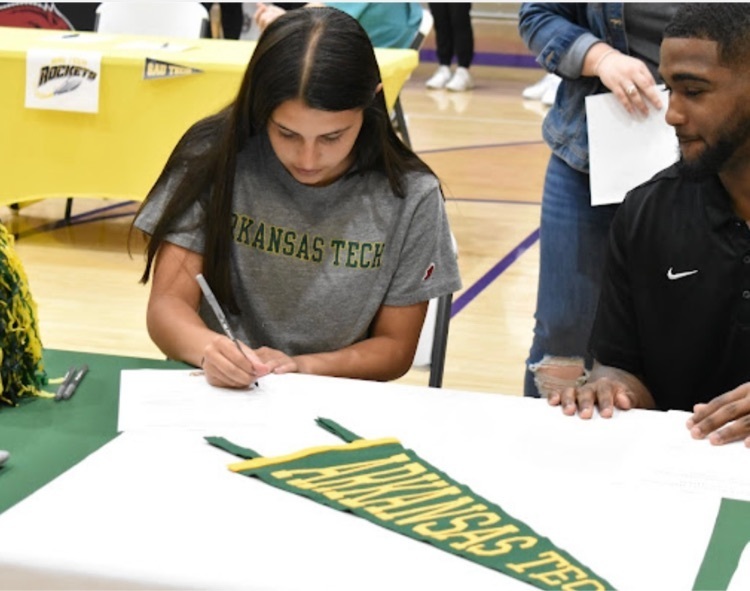 36 Seniors signed letters of intent to continue their education in college or career programs next Fall.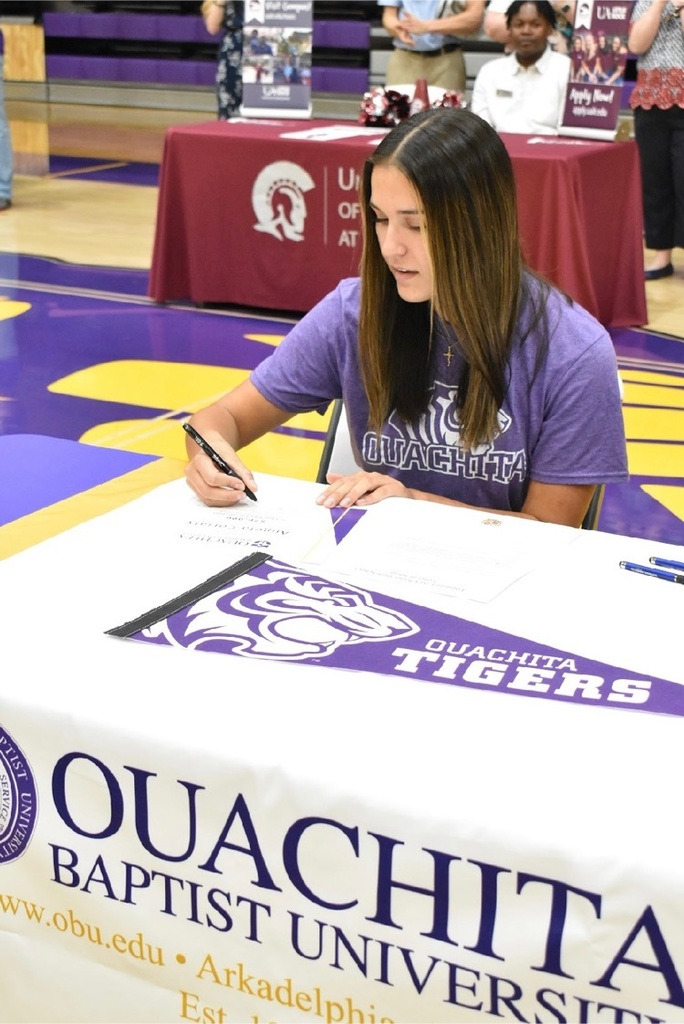 Way to go, 8th grade Quiz Bowl on your 2nd place Tournament victory!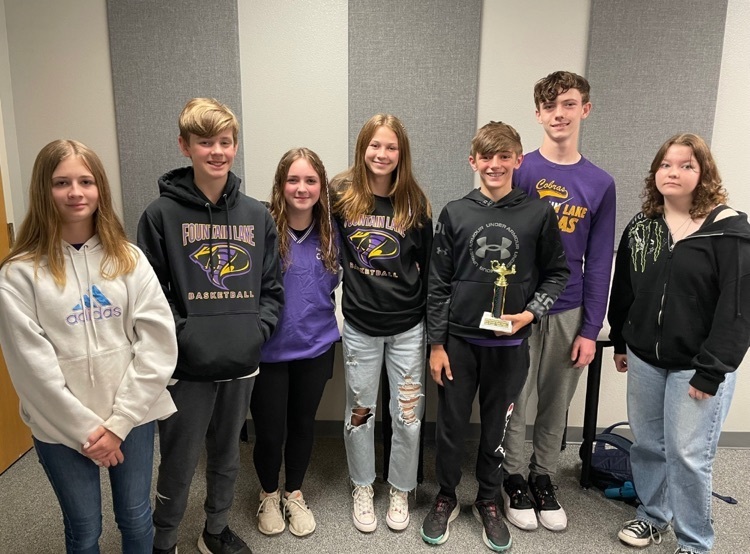 Congratulations to Senior Trent Hughes and Junior Sarah Desfassiaux on their gold and silver medal performances in the Skills USA competition. Desfassiaux won the silver medal in Customer Service and Hughes qualified for National Competition with his gold medal in Job Interview. Both are enrolled in Fountain Lake's Career Internship Program.

Elementary Lost and Found—cool mornings and warm afternoons cause the Lost and Found to grow. If your child is missing a jacket or hoodie, it's probably hanging in the K-1 Hallway! Please claim your missing items!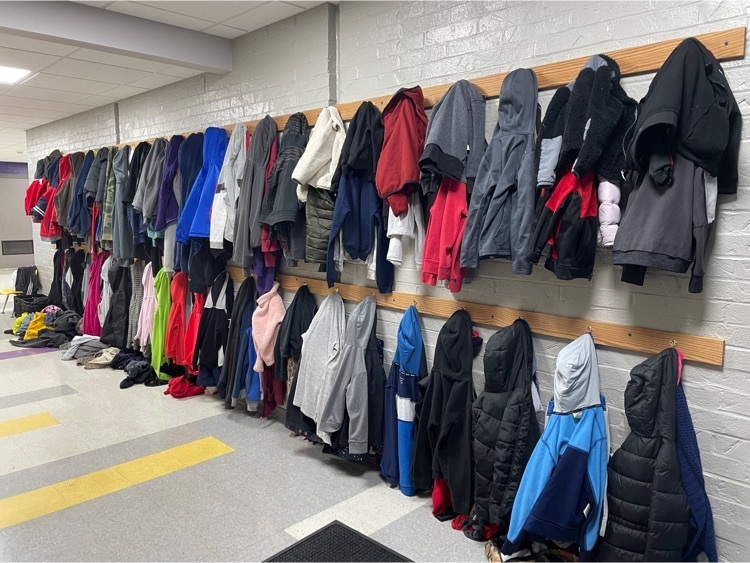 Congratulations to the following Jr. Beta Club students for competing and placing in each of their events at last week's state convention: Ethan Shaffett - B&W Photography (3rd) & Math-7 (5th) Sophie Wyatt & Hayden Reddin - Club Trading Pin (3rd) Julie Richardson - LA-6 (5th) Aiden Carter - LA-7 (1st) Eli Schrader - LA-8 (4th) Nathan Topf - Math-8 (4th) Sophie Wyatt, Abby Burden, Treyton Gray, & Dillon Dettmering - Marketing & Communications (2nd) Anabelle Kramarenko - Mixed Media (4th) Christian O'Neal, Cole Thomas, Miranda Sahm, Anne Claire Richardson - Service Learning (5th) Meagan Tillery - Speech (3rd) Addison Moore & Hayden Reddin - Performing Arts - Duet (4th) Alyssa Watson - Painting (2nd) Christian O'Neal, River Robertson, Carter Culpepper, Isac Wilhite, Miranda Sahm, Anne Claire Richardson, Sophie Wyatt, Addison Moore, Meagan Tillery, Nathan Topf, Abby Burden, and Liam Peters - Performing Arts - Group (2nd) Hayden Reddin, Addison Moore, & Sophie Wyatt - 3D Design (5th) Treyton Gray, Dillon Dettmering, Cooper Buss, Cole Thomas, and Jackson Hinson - Engineering (1st) These Betas worked for months preparing for their competition and their hard work paid off. A lot of them will be eligible to go to the national convention in Nashville, TN, in June.

On campus Blood Drive - Thursday, April 14, 2022 -8:30-1:30PM.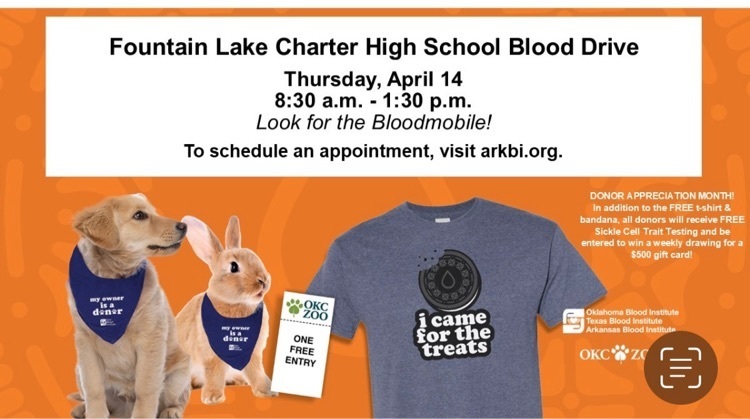 Thanks to Lynn Janaskie and the Garland County Master Gardeners for working with our Ag Classes in developing a pollinator garden in Legacy Park.

Safe Room A & B are now unlocked for anyone that needs shelter. Stay safe!

Cobra Expo - April 20, 2022 - 1-5PM - Saferoom A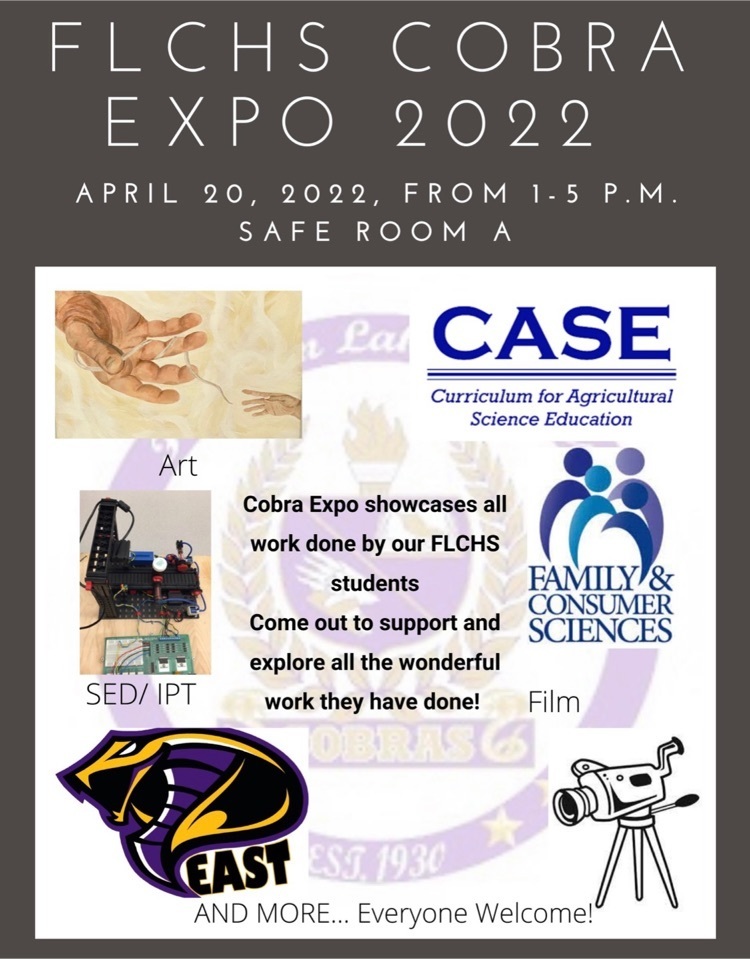 Athletic physicals will be held on campus May 2nd and 3rd Current 6th - 8th graders 5/2 starting at 1:45 Students will be called to the gym by grade level Current 9th - 11th graders 5/3 starting at 1:45 Students will be called to the gym by grade level Students who do not have their physical completed here will have to have proof of a current physical before being allowed to participate in athletics.

The baseball game scheduled for today @ Hope has been postponed until next Monday 4/18.


On Thursday, April 7, 2022, the district received information pertaining to threatened violence to take place on campus on Friday, April 8, 2022. School District Administrators and Ben Riley, Fountain Lake School District Chief of Police, are investigating these threats and have identified the student involved. The student has been removed from campus until the investigation is complete and disciplinary action is determined. We are thankful to the students who brought forward these concerns and have assisted in the investigation. Student and staff safety is always central to our focus.

COVID IMPACT-April 4, 2022

Congratulations to all of our basketball players that received postseason recognition! Give them a pat on the back the next time you see them! All Conference: Paige Davis Mary Drakes Evan East Landin Kizer Colby Lambert Kara Martin Michael Moore Juan Diggs (honorable mention) All-State: Landin Kizer Colby Lambert All-State Tournament Team: Michael Moore

Drivers Ed is being offered at Fountain Lake this June!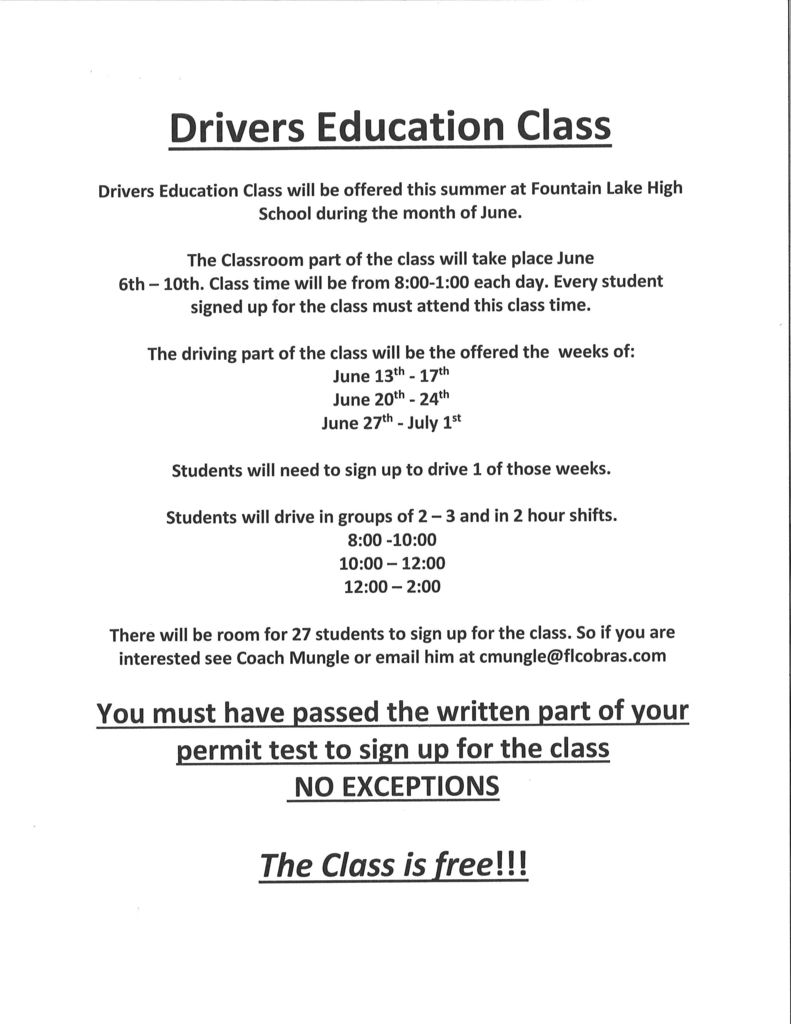 Cobra Bass Club held its first tournament this Saturday on Lake Hamilton Results: Sr High division 1st place - Nicolas Johnson 2nd - Evan East Jr High division 1st place - Hayden Graves 2nd place - Carter Cullpepper Big Bass - Evan East